The first in-depth documentary about Dorothy Day

This thoughful labor of love was written, directed, and produced by Claudia Larson and premiered at New York's Tribeca Film Festival.



Film Synopsis

Dorothy Day: Don't Call Me A Saint tells the story of the New York writer and Catholic anarchist who at the height of the Depression unwittingly created what would become a worldwide peace and social justice movement. The Catholic Worker persists to this day in over 200 houses of hospitality and soup kitchens across the United States, the United Kingdom, Europe, Australia, Canada, Mexico and Africa. Their tenet is based on doing works of mercy and living in voluntary poverty with no attachments to Church or State.

And although the Vatican is currently considering Dorothy Day for canonization, she is no ordinary saint. Caught up in the Bohemian whirl of 1917 Greenwich Village, Dorothy wrote for radical papers, associated with known Communists, attempted suicide, had an illegal abortion, a doomed common-law marriage and a child out of wedlock. The birth of her only child led to her religious conversion.

The film also takes us through Dorothy's protests of the 1950's air-raid drills, her last arrest in 1973 with the United Farm Workers and to her death on November 29, 1980 at the home she founded for homeless women on New York's Bowery.

Interviews with Dorothy, her daughter, and close intimates coupled with never-before-seen family photographs, personal writings and powerful archival footage paint a dramatic picture of Dorothy's most difficult journey to create and live out a vision of a more just world.

_ _ _ _ _ _ _
"Claudia Larson became a filmmaker to tell Day's story, and has ably compressed into 57 minutes Day's extraordinary 83-year life."


- Ronnie Scheib, Variety
"Day was a strong-willed proponent for social justice, and led an unconventional social life. After converting to Catholicism, she changed much of her personal behavior, but did not stop her public fights for equality."


- Perry Seibert, The New York Times
Tribeca Film Festival 2006 Hot Tickets - Dorothy Day: Don't Call Me a Saint is a "don't miss."


- Special Green Issue, Vanity Fair

_ _ _ _ _ _ _



The DOROTHY DAY EXHIBIT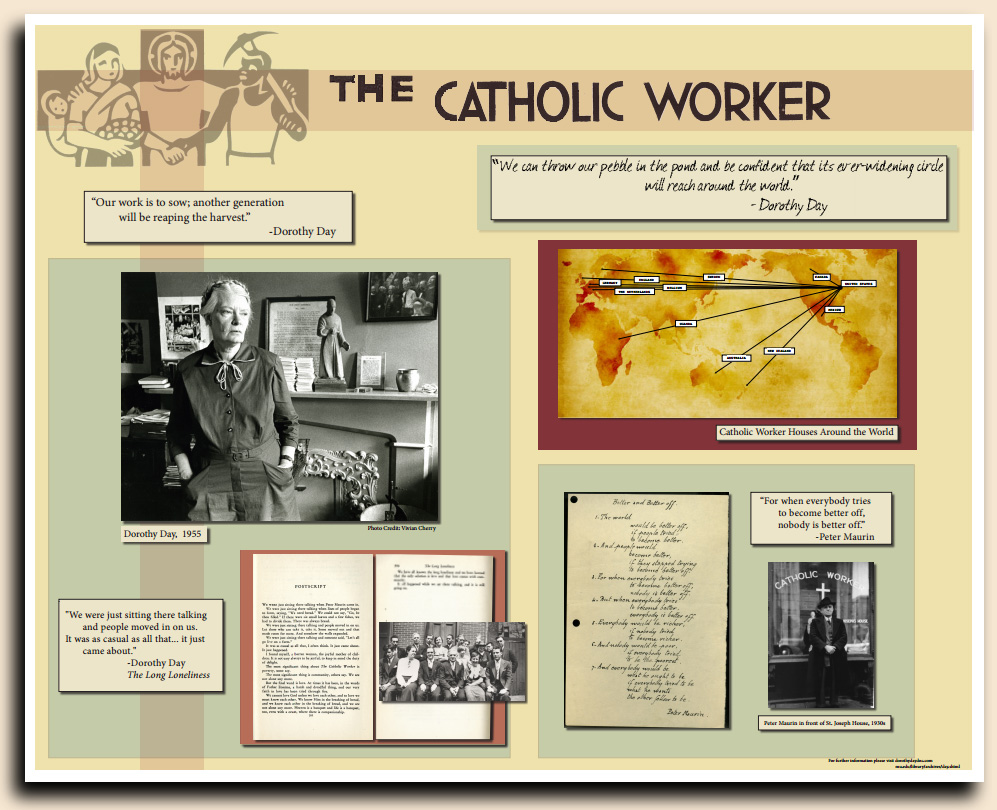 The DOROTHY DAY EXHIBIT was created in partnership with Marquette University, consisting of 4 panels: Dorothy's Timeline, The Catholic Worker Movement, Dorothy's Last Arrest, and her Portrait. The panels are in PDF format and can be sized for a gallery or classroom wall. The EXHIBIT is a quick over-view of Dorothy's life and an impressive visual backdrop for talks. It works in tandem with the film or as a stand-alone learning tool. The files may be acquired at no cost from Dorothy's archivist at Raynor Libraries, Marquette University.
Phil Runkel
phil.runkel@marquette.edu



Tribeca Film Festival

View film summary at tribecafilm.com





Contacts & Sources

Claudia Larson – writer/director/producer
onelucky@pacbell.net
323.666.7800

Marquette University – Dorothy Day Archive
phil.runkel@marquette.edu
www.marquette.edu

The Dorothy Day Guild
http://dorothydayguild.org/learn-more/

Catholic Worker
www.catholicworker.org